Spiti Valley beckons adventurers and nature enthusiasts with its untouched beauty and serene landscapes. As you plan your visit to this enchanting destination, timing is crucial to make the most of your experience. Whether you seek thrilling treks, romantic getaways, or a rendezvous with snow-capped peaks, the best time to visit Spiti Valley varies depending on your interests. From the summer months when the valley bursts with vibrant hues and pleasant weather, to the winter wonderland when snow blankets the terrain, each season offers unique opportunities for exploration. Join us as we unravel the best time to visit Spiti Valley, catering to weather preferences, temperature preferences, snow enthusiasts, avid trekkers, honeymooners, and those in search of similar unforgettable experiences.
Summer Splendor: Discovering Spiti Valley's Vibrant Charm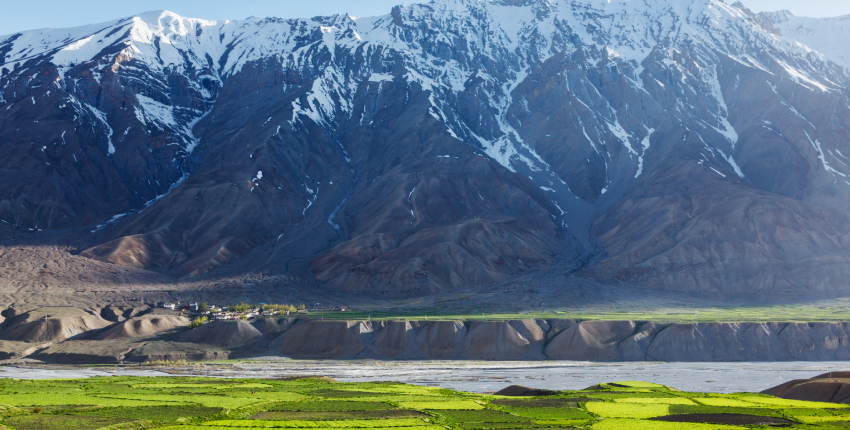 When the snow starts to melt, Spiti Valley awakens with a burst of colors. From June to September, the valley is adorned with blooming wildflowers and lush greenery. The temperature hovers between 15°C and 25°C, offering pleasant days for exploration. It's the ideal time for treks like Pin Parvati Pass and Hampta Pass. Embrace the clear skies and venture into picturesque villages like Kaza and Dhankar to witness the vibrant local culture.
When I visited Spiti Valley in July, the entire valley was ablaze with colorful flowers. It felt like stepping into a dreamland," recalls avid traveler, Sarah. During the summer months of June to September, Spiti Valley showcases its vibrant charm. The pleasant weather, with temperatures ranging from 15°C to 25°C, invites trekkers and nature enthusiasts alike. Embark on the Pin Parvati Pass trek and immerse yourself in the warm hospitality of the locals in Kaza and Dhankar.
Pack light and breathable clothing for warm days.
Carry a light jacket or sweater for cooler evenings.
Don't forget sunscreen, sunglasses, and a hat to protect yourself from the high-altitude sun.
Stay hydrated and drink plenty of water to combat the dry climate.
Plan your treks in advance and ensure you have the necessary gear and permits.
Embracing the Monsoon Magic: Rainy Season Delights in Spiti Valley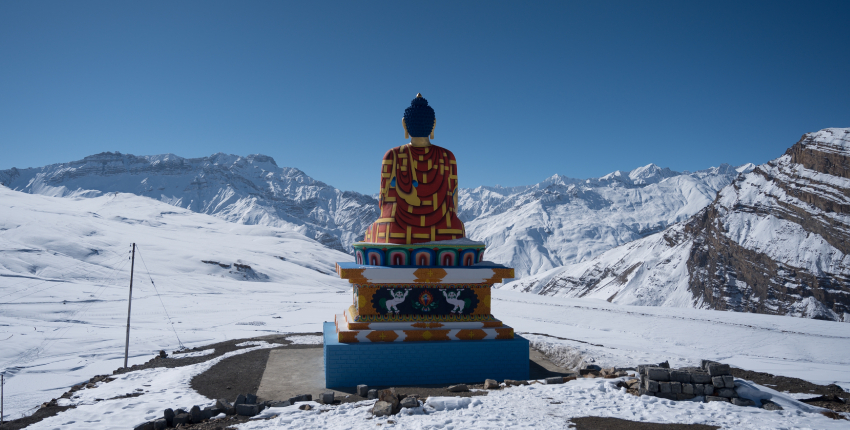 Though monsoons bring intermittent showers, they add a touch of magic to Spiti Valley. From July to September, the landscapes transform into a paradise, with dramatic cloud formations and glistening streams. While road travel might be challenging due to occasional landslides, the showers breathe life into the valley, making it a photographer's delight. Experience the serenity of ancient monasteries like Key and Tabo as you immerse yourself in the tranquility of the rain-washed surroundings.
While many may prefer to avoid the monsoon season, Spiti Valley reveals a different kind of beauty during this time. "I witnessed the magnificent Tabo Monastery enveloped in mist during the monsoons. It was a surreal experience," shares Rohan, an adventure enthusiast. From July to September, intermittent showers cast a magical spell over the valley. Be prepared for occasional landslides but seize the opportunity to capture ethereal photographs and explore the serene monasteries.
Check weather conditions and road status before traveling, as landslides can occur.
Carry waterproof clothing, including raincoats and waterproof boots.
Be prepared for occasional road closures and delays due to heavy rainfall.
Explore indoor attractions like Tabo Monastery and Dhankar Monastery during wet weather.
Capture the misty landscapes and dramatic skies with your camera.
Autumn's Palette: A Photographer's Paradise in Spiti Valley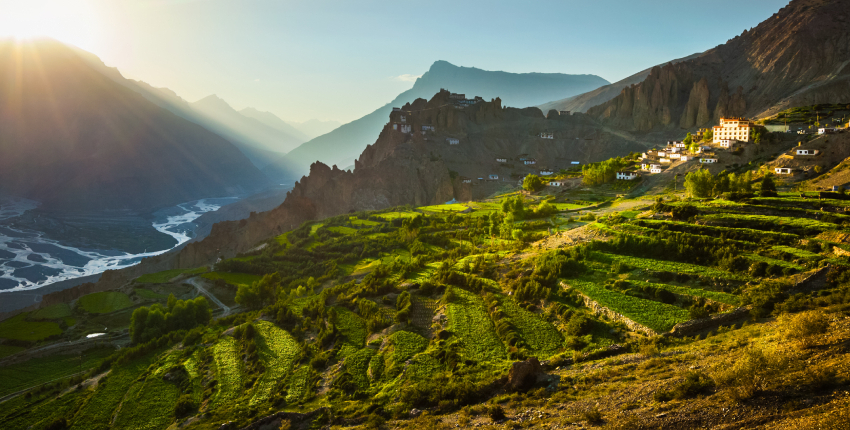 As summer bids adieu, Spiti Valley adorns itself with a breathtaking tapestry of autumn colors. September to November brings crisp air and temperatures ranging from 5°C to 20°C. The golden hues of the landscape and the clear blue skies offer a visual feast for photography enthusiasts. Explore the mesmerizing Spiti River, visit the high-altitude village of Langza, and witness the spectacle of changing seasons as Spiti Valley gracefully transitions into winter.
Visiting Spiti Valley in October was a visual feast. The golden hues of the landscape against the clear blue skies were simply breathtaking," reminisces photographer Maya. As autumn paints Spiti Valley in a myriad of colors, from September to November, photographers and nature lovers are in for a treat. Capture stunning images of the Spiti River, wander through the captivating village of Langza, and witness nature's artistry as the valley gracefully transitions into winter.
Dress in layers to stay comfortable as temperatures can vary.
Carry your camera equipment and extra memory cards to capture the stunning autumn colors.
Check for any specific festivals or events happening during your visit.
Enjoy hiking trails amidst the colorful landscapes and capture the beauty of Langza and Kibber villages.
Experience homestays to interact with locals and learn about their culture.
Winter Wonderland: Unveiling Spiti Valley's Snowy Serenity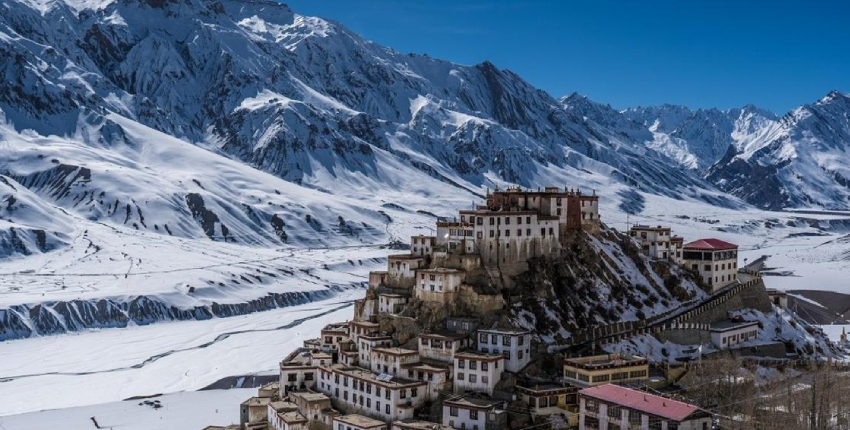 Winter casts a spell on Spiti Valley, transforming it into a pristine wonderland. From December to February, the valley is blanketed in glistening snow, and temperatures dip to -30°C. Adventurers seeking solitude and an awe-inspiring experience can embark on winter treks like the Chadar Trek. Delve into the unique cultural traditions of the locals, enjoy warm hospitality, and witness the grandeur of Spiti Valley as it embraces its frozen splendor.
Traversing the frozen Zanskar River during the Chadar Trek was a surreal experience. The untouched beauty of Spiti Valley in winter is truly mesmerizing," recounts adventure seeker Alex. From December to February, Spiti Valley transforms into a pristine wonderland, blanketed in glistening snow. With temperatures dipping to -30°C, it's a paradise for winter enthusiasts. Immerse yourself in the local culture, warm up by the fireside, and witness the ethereal grandeur of Spiti Valley in its frozen splendor.
Pack heavy winter clothing, including thermal wear, down jackets, and insulated boots.
Carry extra batteries and protection for your camera equipment in cold weather.
Check for road closures and travel with experienced drivers familiar with winter conditions.
Book accommodations with adequate heating facilities or opt for homestays for a cozy experience.
Engage in cultural experiences like participating in local festivals and witnessing traditional ceremonies.
Trekking Trails and Adventures: Finding the Perfect Time to Hike Spiti Valley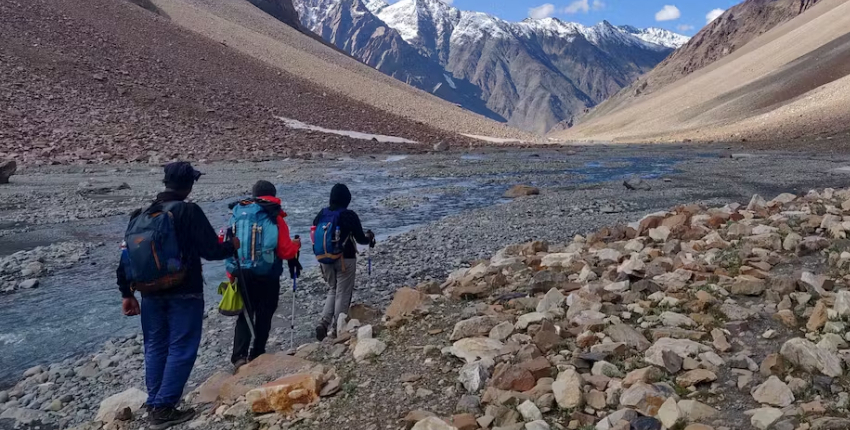 Spiti Valley offers thrilling trekking opportunities for adventurers. In the summer months of June to September, when the trails are clear and the weather is favorable, embark on treks like Pin Parvati Pass and Chandratal Baralacha Trek. Winter treks like Chadar Trek, from January to February, provide an extraordinary experience of walking on the frozen Zanskar River. Choose the season that aligns with your trekking preferences and embark on an unforgettable adventure.
Embarking on the Pin Parvati Pass trek in August was an adventure like no other. The challenging terrain and breathtaking views made it truly memorable," shares trekking enthusiast Ethan. Spiti Valley offers thrilling trekking opportunities throughout the year. Choose the best time based on your preferences and embark on unforgettable adventures. From the Pin Parvati Pass trek in summer to the Chadar Trek in winter, each season presents a unique and exhilarating experience for trekkers.
Research and select the trek that matches your skill level and preferences.
Carry appropriate trekking gear, including sturdy boots, trekking poles, and a backpack.
Acclimatize properly before starting high-altitude treks to avoid altitude sickness.
Hire experienced local guides who are familiar with the terrain and weather conditions.
Check the availability of permits and make necessary arrangements in advance.
Honeymoon Haven: Romance and Tranquility in Spiti Valley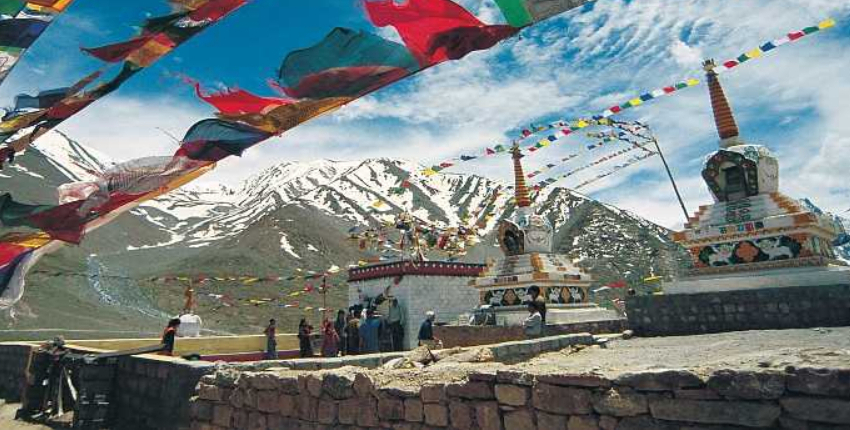 For couples seeking an intimate and picturesque honeymoon, Spiti Valley provides a perfect setting. Summer and autumn, from June to November, offer comfortable temperatures and breathtaking landscapes. Enjoy leisurely walks through picturesque villages, visit monasteries, and revel in the tranquil ambiance of the valley. Create unforgettable memories against the backdrop of snow-capped peaks, pristine lakes, and the serenity of Spiti Valley.
Spiti Valley provided the perfect backdrop for our honeymoon. The tranquil ambiance and stunning landscapes created memories we'll cherish forever," shares newlyweds Priya and Rahul. Summer and autumn, from June to November, offer comfortable temperatures and breathtaking scenery for couples seeking an intimate and picturesque honeymoon. Stroll hand in hand through charming villages, visit ancient monasteries, and immerse yourselves in the serene beauty of Spiti Valley.
Choose accommodations that offer privacy and a romantic ambiance.
Plan candlelit dinners or picnics amidst the stunning landscapes.
Take leisurely walks hand in hand and enjoy the peaceful atmosphere.
Arrange for special experiences like a private monastery visit or a traditional cultural performance.
Don't forget to capture your cherished moments together against the backdrop of Spiti Valley's beauty.
Chasing Snowflakes: The Best Time for Snow Lovers in Spiti Valley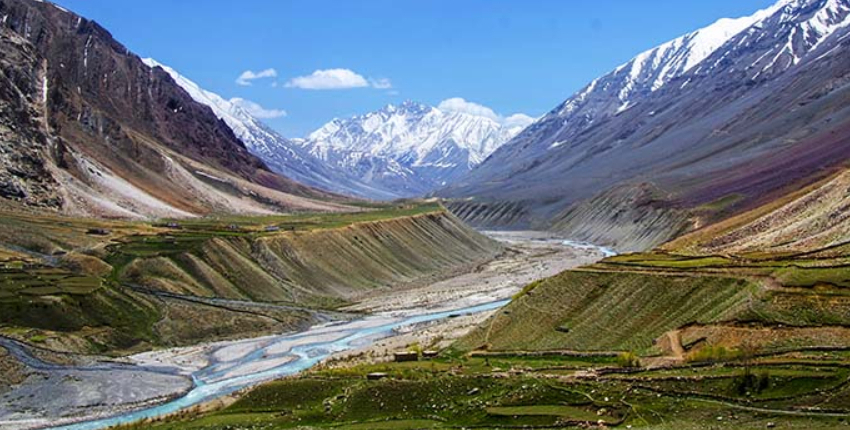 If you're a snow enthusiast yearning for a winter wonderland, Spiti Valley is your ultimate destination. From December to February, this breathtaking region transforms into a snowy paradise. Immerse yourself in the ethereal beauty of Spiti Valley as temperatures plunge, reaching as low as -30°C. Engage in thrilling snow activities, witness frozen waterfalls, and embark on the legendary Chadar Trek. Brace yourself for an awe-inspiring adventure and create indelible memories amidst the pristine snowscape of Spiti Valley.
When I visited Spiti Valley in June, I was captivated by the breathtaking vistas and the riot of colors that greeted me," recalls Sarah, an avid traveler.
Pack warm and insulated clothing, including thermals, gloves, and beanies.
Carry snow boots with good traction for walking on slippery surfaces.
Stay updated on weather forecasts and road conditions to plan your travel accordingly.
Engage in snow activities like building snowmen, snowball fights, or even skiing if available.
Embrace the cozy atmosphere by enjoying hot beverages and local delicacies by the fireplace.
Snow enthusiasts can witness the enchanting beauty of Spiti Valley during the winter months of December to February. Remember to prioritize safety, respect local customs, and plan your itinerary according to your interests and the specific season you choose to visit Spiti Valley.