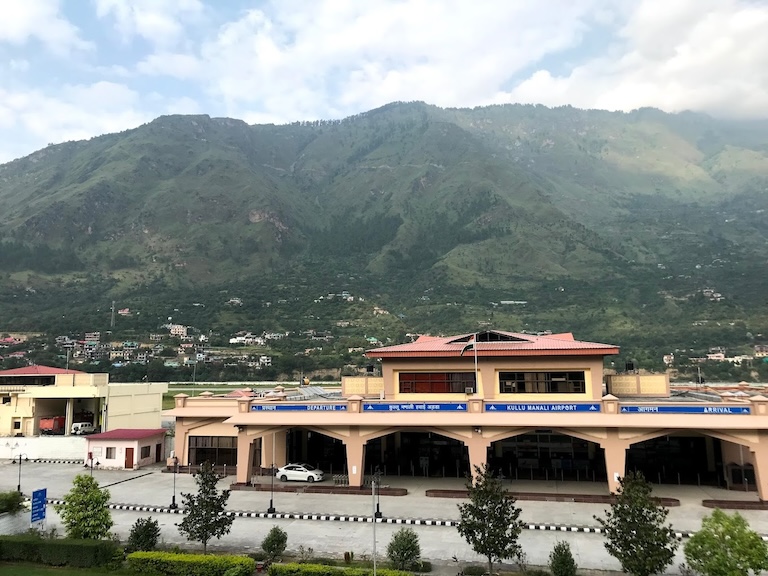 Airports in Himachal Pradesh are rated highly by many people who visit this place more often or not. Traveling to Only some parts of Himachal Pradesh can be possible by flight, and the airport is well-versed with modern facilities and lots of recreation for passengers. Located in the lap of the Himalayas, Himachal Pradesh is a tourist hub. Well, if you want to come to Himachal Pradesh and short on time, then you need to know the airports in Himachal.
Top 3 airports in Himachal Pradesh
Once you book a flight ticket for Himachal Pradesh, you will get the full value of your desire to travel to this place. There are 3 main airports that connect all places in India and your wish to explore different places will be fulfilled.
1. Bhuntar Airport – Kullu & Manali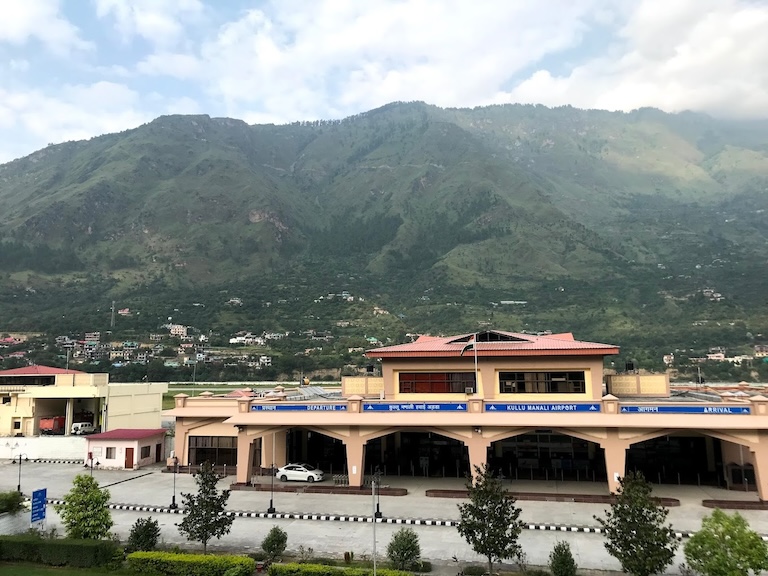 Situated in Bhuntar, Kullu-Manali Airport provides access to the adventure capital of Himachal. Located 10 km from Kullu and 50 km from Manali, it connects thrill-seekers to thrilling activities like paragliding, trekking, and river rafting, making it a preferred choice for adrenaline junkies.
Bhuntar Airport Location
Bhuntar Airport is situated in the town of Bhuntar, which is approximately 10 kilometers south of Kullu and about 50 kilometers north of Manali, two popular tourist destinations in the state of Himachal Pradesh.
Bhuntar Airport Connectivity
One can easily get a flight from Delhi to Bhuntar. The airport has connectivity flights from Delhi to Pathankot by Air India. It is the domestic airport in Himachal Pradesh.
Bhuntar Airport Runway
Bhuntar Airport has a single asphalt runway designated as 14/32. The runway measures about 3,360 feet in length. Due to the short length of the runway, only small aircraft can operate at this airport. As a result, it primarily handles flights with turboprop aircraft.
How to reach Bhuntar Airport
To reach Bhuntar Airport in Himachal Pradesh, India, for Kullu and Manali, fly domestically to Bhuntar Airport from major Indian cities like Delhi or Chandigarh. The airport is approximately 10 km from Kullu and 50 km from Manali. Local taxis and buses are available for further transportation to these scenic hill stations.
2. Gaggal Airport – Kangra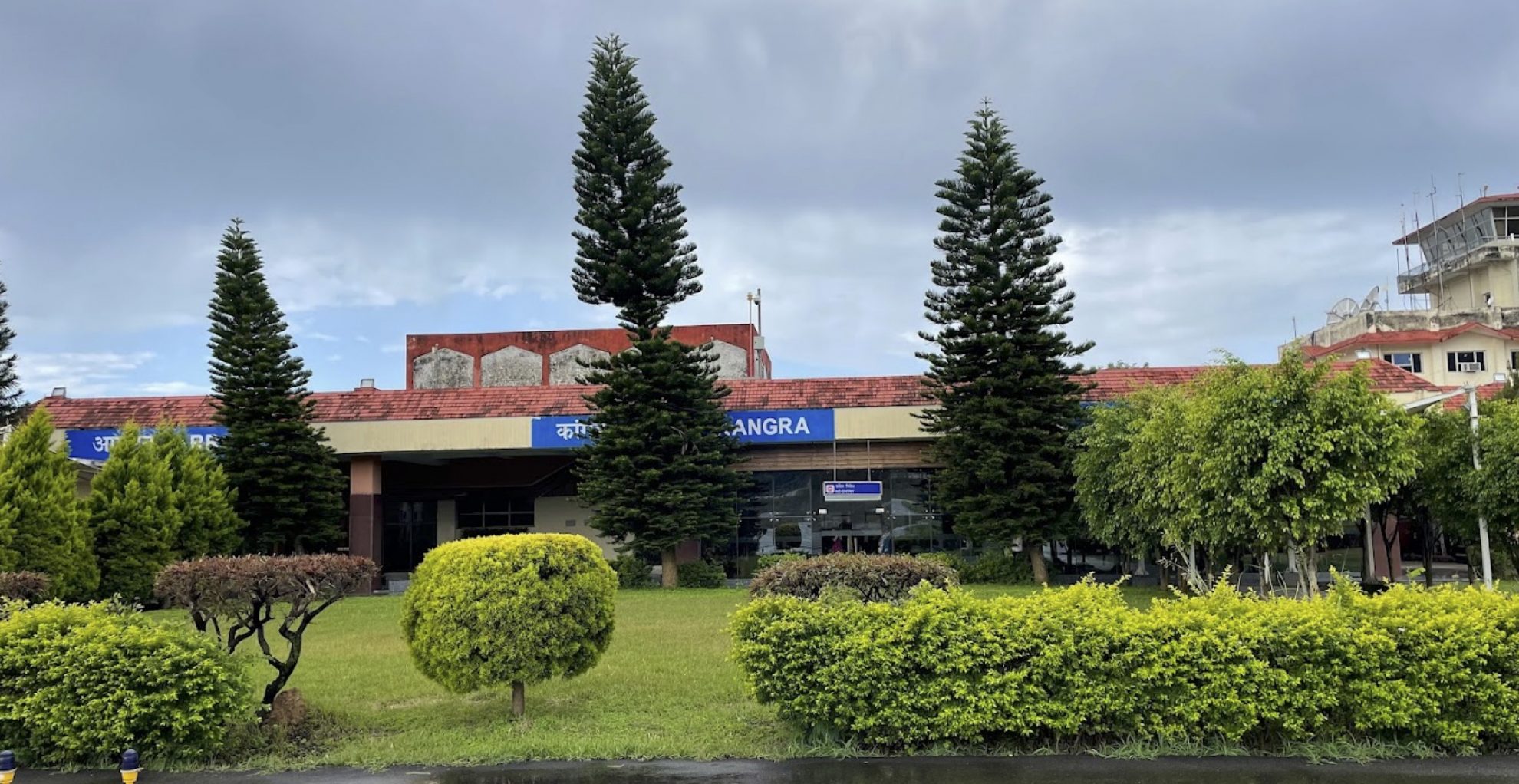 Next on the list of airports here in Himachal Pradesh is Gaggal Airport which connects all places here and is located near the Kangra districts. The airport is located in the hills of Dharamsala and has always been a preferred tourist destination due to its breathtaking views of the mountains.
Gaggal Airport Location
Gaggal Airport is situated in Gaggal village, about 14 kilometers from the town of Kangra and around 13 kilometers from Dharamshala, a popular tourist destination in Himachal Pradesh.
Gaggal Airport Connectivity
The airport serves as a gateway to Dharamshala and nearby areas, attracting tourists and pilgrims visiting the region. It primarily handles domestic flights.
Gaggal Airport Runway
Gaggal Airport has a single asphalt runway designated as 15/33, with a length of approximately 3,035 feet. Similar to Bhuntar Airport, this runway length limits the operation of only small aircraft, particularly turboprop planes.
How to reach Gaggal Airport
Travelers can reach Gaggal Airport by taking domestic flights from major cities like Delhi, Chandigarh, or Mumbai, as these cities are well-connected to Kangra through regular flights. From the airport, taxis, and local buses are available for transportation to Kangra town or Dharamshala, which is a popular hill station and the nearest major destination to the airport.
3. Jubbarhatti Airport – Shimla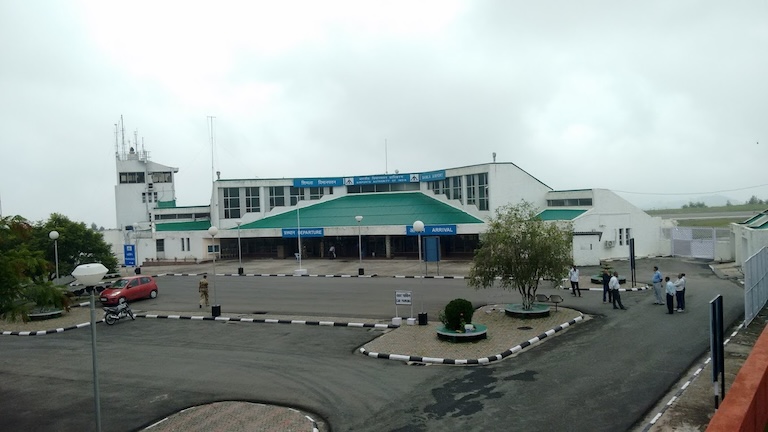 Located in the heart of the place, Jubbarhatti Airport connects to Shimla and is lied at a distance of 23 km from Jubbarhatti Airport. It is the best airport in the region of Shimla and is highly preferred by travelers.
Jubbarhatti Airport Location
Jubbarhatti Airport is located in the Jubbarhatti area, approximately 22 kilometers southwest of Shimla city center. It is situated amidst the picturesque Himalayan mountains, offering scenic views during takeoff and landing.
Jubbarhatti Airport Connectivity
Due to the higher altitude, many flights were halted in Shimla to land at the airport safely. These are the nearest airports to Manali, Himachal Pradesh and continuously serve passengers the best hospitality and unmatched air services.
Jubbarhatti Airport Runway
Jubbarhatti Airport has a single asphalt runway designated as 17/35, with a length of around 3,035 feet. Like other airports in the region, the runway's short length limits operations to small aircraft, primarily turboprop planes.
How to Reach Jubbarhatti Airport
To reach Jubbarhatti Airport in Shimla, travelers can take domestic flights from major cities like Delhi or Chandigarh, which have regular air connectivity to Shimla. After arriving at the airport, taxis and local buses are available for transportation to Shimla city center and other nearby destinations.
What you know about Himachal Airports:
In nutshell, the airports in Himachal Pradesh, India, such as Bhuntar Airport, Gaggal Airport (Kangra Airport), and Jubbarhatti Airport, play vital roles in connecting tourists and travelers to popular destinations in the region. While these airports mainly handle domestic flights and are limited to small aircraft due to their short runways, they serve as crucial gateways to scenic hill stations and pilgrimage sites, providing travelers with breathtaking views of the Himalayan landscapes. It's important to stay updated with the latest information and flight schedules while planning a trip to these airports for a smooth travel experience.